Ergonomically designed Loveseats and Sofas in one foot intervals.
---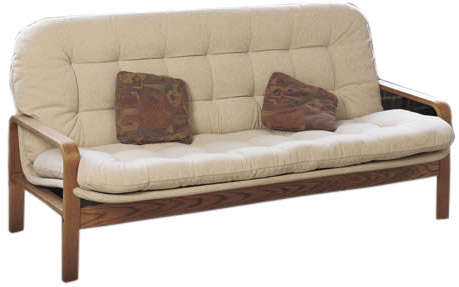 Sofas
Brigger sofas are light yet sturdy, and actively support your body with firm seats, soft backs, and our adjustable lumbar support. With a large choice of upholstery materials and solid woods they provide beautiful ergonomic comfort for homes and offices. Call to order (800) 451-7247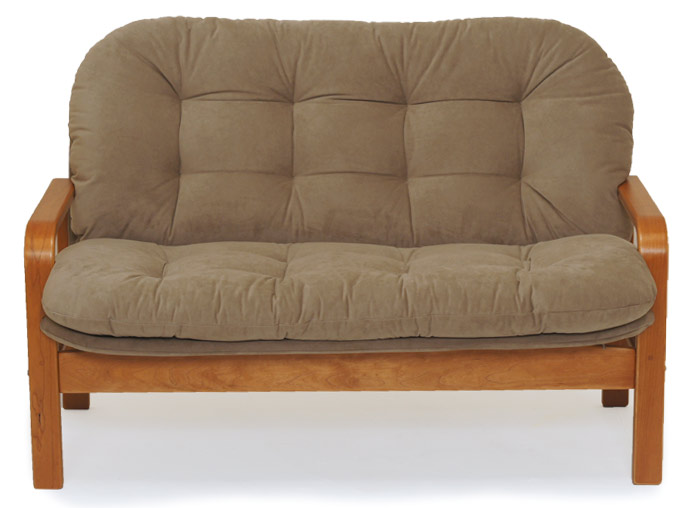 ---
Price
Sofa prices depend on the choice of wood, stain, and upholstery materials in six price codes, which you select in the Design Center. Make a note of your selections for ordering.
Fabric Code

48″ Sofa

(Loveseat Size)

60″ Sofa

72″ Sofa

84″ Sofa

Fabrics

Price Code

1

$649

$759

$799

$889

---

Fabrics

Price Code

2

$709

$839

$889

$999

---

Fabrics

Price Code

3

$839

$999

$1069

$1219

---

Brisa®

Price Code

4

$1029

$1199

$1349

$1529

---

UltraSuede®

Price Code

5

$1159

$1359

$1529

$1769

---

Leathers

Price Code

6

$1259

$1459

$1649

N/A

---
Zip-on Arm Pads are optional (see Accessories). Prices shown are for clear oak and maple. Please, note the following upcharges:
| | |
| --- | --- |
| Oak Stain | +$30 |
| Oak Black | +$50 |
| Cherry Clear | +$75 |
| Deep Seat | +$50 |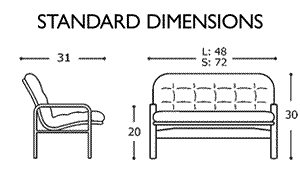 ---
Design and Versatility
Brigger furniture and sofas, in particular, provide ergonomic comfort without the great bulk of much contemporary furniture. They are functional and light yet strong and durable without weight limitations. Brigger sofas assemble and disassemble easily and take less space than bulky sofas. The are well suited where space and access are limited and where ease of moving is a consideration. Yet they are perfectly suitable for any location one likes to have a comfortable multi-seater.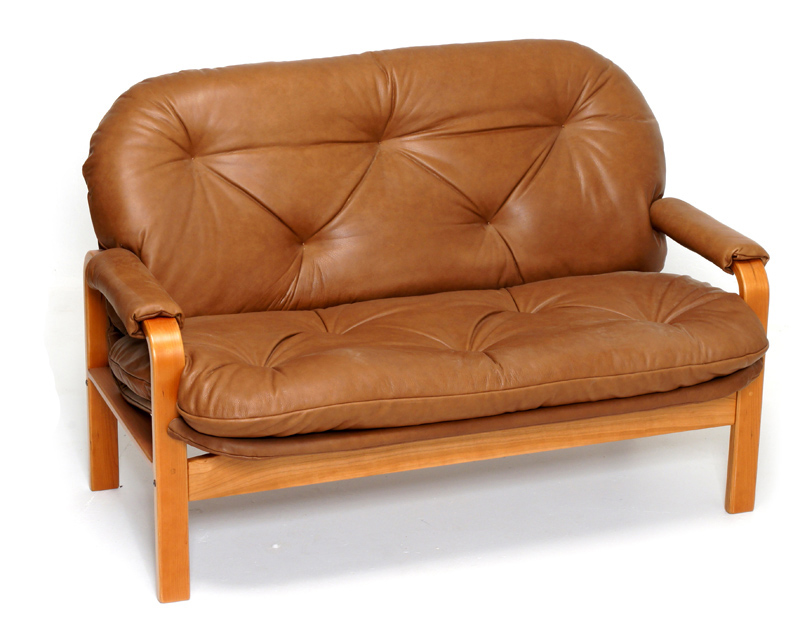 For people to experience lumbar support it is essential that they be able to sit up against the back of any seat However, this will only be possible if the seat depth allows one to sit up against the back without the front of the seat hitting one's back of the knee, otherwise a slouching posture will result. At the same time, the seat height should be such as to allow the feet to be firmly planted on the floor. Klein Design offers a choice of seat depth and height to provide sofas that fit persons of all sizes and shapes.
Sofas are offered with two sizes of arms that provide regular and deep seat versions to cover a wide range of seat depths. Please, determine the recommended seat configuration for your height and/or consult with us for proper dimensioning of your sofa choice.
Brigger sofas provide comparatively firm seats in contrast to the "bottomless" comfort of many bulky sofas because we realized that the perception of comfort has much to do with experiencing proper body support. Softness is desirable but needs to be backed up with structural support. To achieve this goal we utilize high density foam with polyester batting in a sophisticated balance. The back cushion is softer and works with the lumbar support that is built into the back of the sofas to provide ergonomic comfort.
---
Find the right seat
To fully benefit from its ergonomic features, Brigger furniture should be the correct size. Seat depth and seat height are the most important factors in determining comfort.
---
To Order Call (800) 451-7247 or Email Us
Give us your personal height and we will recommend the best seat for you.
---
Suggested Accessories
We offer a variety of accessories such as our ottomans to enhance your sitting comfort.